Shoppers use Amazon A+ content to make important decisions on what to buy as one of the last touch points before clicking add to cart. It is up to you to ensure that your Amazon A+ content is informative and engaging. When you optimize Amazon A+ Content, you can create outstanding product pages with all the necessary information, charts, and images that your customer needs to get excited about your brand and product.  
What is Amazon A+ Content?
Amazon A+ content is a set of tools that allows sellers to dress up their listings and extend their content. The aim is to capture traffic and convert that traffic to sales. Amazon A+ content is a powerful tool that drives traffic to your pages and helps to convert traffic to sales.
Use enhanced brand content to optimize your product pages and help your customers to make better decisions based on improved information and clear images.
Online customers can't touch, feel or try a product as they can in a real store. So, It's essential that Amazon sellers find a way to bridge the gap between the brick-and-mortar experience and remote buying.
The only way to do this is with the power of words and imagery. Amazon listings are relatively restrictive when it comes to what you may and may not do unless you're using Amazon A+ content to optimize your content. Amazon A+ content allows sellers to make the most out of their brand messaging. It allows for extra content and imagery. You can use customized headings, charts, and infographics to tell the story of your product and brand. Optimized Amazon A+ content can really make your listing stand out and create a brand experience that your customer won't forget.  
Benefits of Optimizing Amazon A+ Content
To succeed in a competitive environment like the Amazon marketplace, you must have optimized content. Amazon A+ content is designed to help you to create interesting and engaging product pages. This helps customers to make great buying decisions.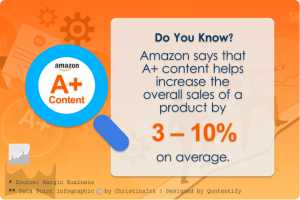 Enhances the Online Shopping Experience
An Amazon A+ optimized listing enhances the online shopping experience for visitors to your product page. With A+ content, you can improve the readability of your listing, removing any buyer confusion about your product. When you optimize Amazon A+ content, you'll reduce the number of returns and negative reviews. Your customers will know what to expect when they order your product, so they won't be disappointed.
An Opportunity to Tell Your Brand Story
A+ content allows Amazon sellers the opportunity to unfold their brand story. You can share information about your brand and products that potential customers may resonate with and value. Use Amazon A+ content to differentiate your brand and make it stand out from your competitors. Impress visitors with your product pages, and they'll remember your brand and return for more of your products. To make things easy, you can use an Amazon A+ content template and tailor it to your brand and product.  
Highlights your Product Selling Points
In an environment as competitive as Amazon, your listing must stand out from listings for other similar products. It must draw traffic and convert that traffic to sales. Optimized Amazon A+ content gives you the edge, showcasing your products to attract attention and beat the competition. A+ content affords that wow factor, not every seller takes advantage of.

Amazon A+ content allows for a lot of creative freedom. Still, there are some rules that you must stick to. Amazon won't allow the following information in your content:
Warranties or satisfaction guarantees

Refunds or returns off of Amazon

No seller endorsements are allowed. You can't, for example, refer to your products as "authentic".

Promotional references like "cheap" or "free" are not allowed. Neither are calls to action

You may not share shipping information such as "free shipping"

You may not compare your products to competing products

You may use a maximum of four endorsements from well-known published material or public figures. You have to include all the information pertaining to the publication, including author, date, and title.

No hyperlinks to external sites are allowed

No off-Amazon contact details allowed

Who is Eligible to Create A+ Content?
You qualify to use Amazon enhanced brand content If you have Amazon Brand Registry approval or if you're part of a program like Amazon Exclusives or Amazon Launchpad.
If you're eligible, Amazon A+ content is free of charge for any approved brand in your catalog. You must use your brand name as registered when optimizing Amazon A+ content. Your product or its packaging must also carry your trademark, or you may run into challenges.

How to Optimize your Product Pages with A+ Content
Optimizing your pages with A+ content is not difficult. You can use an Amazon A+ content template and some simple guidelines for Amazon-enhanced brand content.

Make Sure Your Content is Clear and Accurate
Titles, descriptions, and A+ Content headlines must be clear and to the point.

Copywriting in your A+ Content images and captions should focus on product features and benefits that customers will find useful. 

Keep the language simple to ensure that everyone understands the message that you are attempting to convey.
Create a Distinctive Brand Image
Tell the story of your brand. Your Amazon A+ content should convey a cohesive brand image that differentiates your products from those of your competitors. A strong brand image will resonate with shoppers and create a memorable experience. Your objective should be to develop trust in your brand so that customers remember you and return to buy again.
Use Search Engine Optimized Words
Even the best products won't find buyers unless the product page pops up when the customer looks for products like yours. Search engines use keywords to match customers with the product or information that they seek. Unless you optimize your Amazon detail page with the relevant keywords, you're losing out to your competition. You'll want to regularly re-examine your keyword use to ensure that the words in your Amazon listing and A+ content remain relevant throughout the year and special holidays.
Make Use of Videos and Top-Quality Images
Include clear images to showcase your product, and add copywriting that highlights your product's biggest features and benefits in both the A+ images and captions. Effective copywriting can help potential customers visualize how your product can improve their lifestyle. Your A+ content should carry your brand theme from your Amazon listing to your website and social channels so that your brand becomes easier for your customers to recognize on and off the Amazon marketplace. 
Cross Sell Product
Amazon A+ content gives you the option of using comparison charts. Comparison charts are a useful tool in up-selling and cross-promoting products across your product range. Comparison charts also help buyers choose the best product to suit their needs.
A+ Image Size and Resolution Guidelines
Images speak directly to buyers, so it is essential that you follow best practices in setting them up. Buyers make judgments about your products and brand based on what they see on your Amazon product page. Your A+ Content and Amazon listing images must create a good first impression to showcase your brand and products.
Here are Amazon's guidelines for images:
Image types allowed

– .jpg, .bmp, and .png in the RGB colour

File size

– under 2MB

Resolution

– 72 dpi

No animated images allowed
Clarity across digital devices

– all pictures and text must be clear and readable across devices

Image keywords

– must be readable by screen reader applications

Use new images for all A+ content

– don't use stale pictures from your gallery. Optimized Amazon A+ content is designed to show the customer how distinctive your product is

Stick to a single brand logo
Apply good grammar and formatting to all content ­

– double-check your spelling and grammar before you submit your product pages. Mistakes can take a while to correct

Spell out all numbers under ten
Use only the language specified in the content for all written content on the product page

Final Thoughts
A+ Content is free to use and can help you make the best of your Amazon product page while showcasing your brand and products in the best light. Leverage visually stunning graphics and effective copywriting to make your Amazon A+ content stand out and attract more shoppers and sales.
A+ content enhances the shopping experience and helps buyers make the best choices. Buyers are more likely to buy from Amazon product pages that contain rich A+ content and display professional and coherent brand information. Lastly, Amazon A+ content can help you grow brand recognition and buyer trust to help ensure you retain customers over time.
If that's not enough,
Margin Business can help enhance your Amazon business's brand story and product features using rich text and images on the Amazon product detail page including A+ content to drive conversion, and potentially increase traffic and sales. Contact them today for a quote.