What's the ultimate purpose of Amazon listing optimization? Quite simply, it is to make an impact and compel consumers to buy your products. Amazon listing optimization is essential in terms of your Amazon sales journey and helps differentiate your brand and products so that you garner the most visibility against your competition.
Creating a persuasive Amazon listing does not have to be as intimidating a process as it's made out to seem. With some great resources in your tool belt, you can craft a conversion-worthy listing that will help you boost your product's appeal and sales.
In this guide, you'll learn Amazon listing optimization and creation from scratch. Any good copywriter will tell you that 99% of their work is backed by research and strategy, and that is why there are so many details to consider in Amazon listing optimization.
Before diving in, it's important to understand how vital your Amazon lisitng is to not only your sales but the effectiveness of your Amazon PPC campaigns and strategy. Unfortunately, too many sellers attempt quick fixes and throw money at Amazon PPC to increase conversion in a last-ditch effort to save products from shrinking visibility.  
Without a fully optimized Amazon FBA listing, there is almost little to no chance for visibility and conversion. Amazon lisitng optimization should come before Amazon PPC optimization and any increases in PPC spend. 
Let's dive in!
Clearly Define Your Amazon FBA Private Label Product
The first step to Amazon listing optimization is to create a transparent product information sheet. 
This info sheet is not the typical info sheet you'd get from your manufacturer, rather it will be the pièce de résistance of your product information. It's like the bible of your product, and it will come in handy down the line several times over.
A feature is a part of your product. For example, The hot air brush is made with three heat settings.
A benefit is an outcome associated with owning your product. The hot air brush smooths hair and dries hair faster.
Scratch and Sniff 
How can you understand the massive benefits of your product and properly relay those benefits to your audience if you don't actually test your product? You'd be surprised by the number of sellers who do not order product samples and do not know the full scope of the features or benefits their product offers. Here's a hint: it's a lot!
Review the generic packaging and inserts, pulling apart every aspect of the manufacturer's user guide and warranty. Use your product for a week or two, and note as many positive and negative attributes you can come up with. You want to know how well it functions and where improvements can be made.
Record Features vs. Benefits
In a spreadsheet, detail the specifications and as many features and benefits that come to mind. 
Don't forget to review competitor listings for added features and benefits you may not have realized. Ensure these added features and benefits are true to your product so you can provide the most accurate information possible to consumers. Use a feature and benefit converter like the one we created in the image below to help you understand how the features of your product benefit your ideal customers.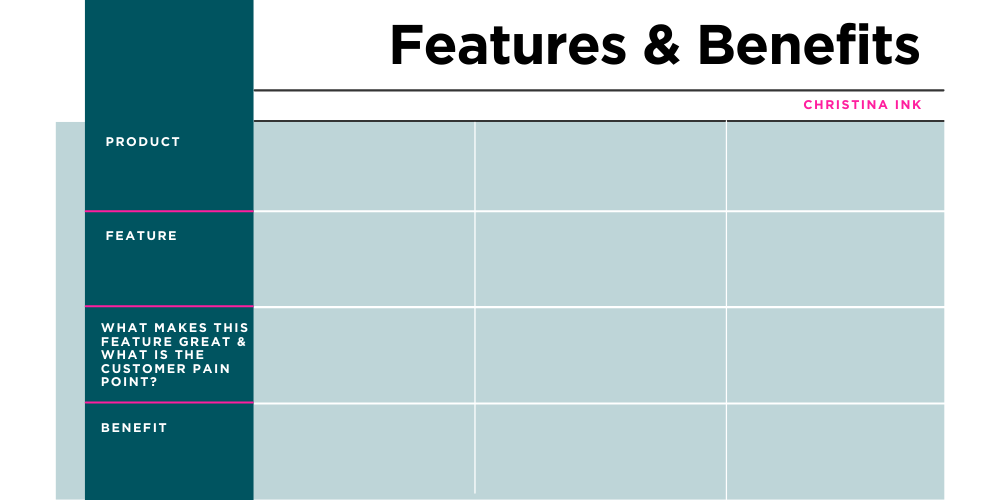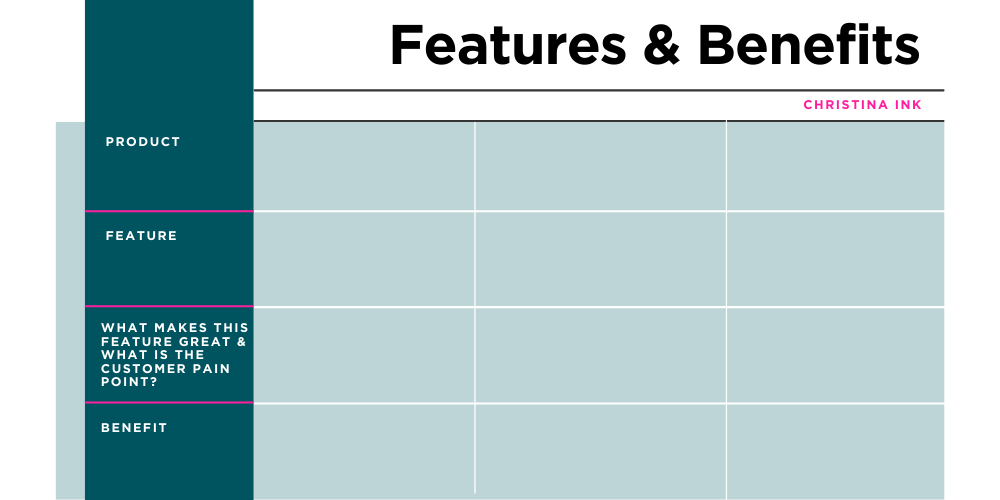 Research the Customer Reviews
Record as many reviews from your top 3 to 5 competitors in the same spreadsheet. Remember to choose the most relevant competitor ASINs. Keep a close eye on your review data long after you start selling. Saving all of this information in one well-organized spreadsheet will help you understand areas of your product you may seek to improve over time.
Analyze Customer Questions
When we begin to craft the Amazon listing we generally skim the listing for 1-star reviews. But what about the questions and answers section? Questions and answers are vital to your Amazon listing and can make a big impact. If you address a common question in one of your top 3 bullet points, the shopper doesn't have to hunt too far for the information they need to make their purchase decision.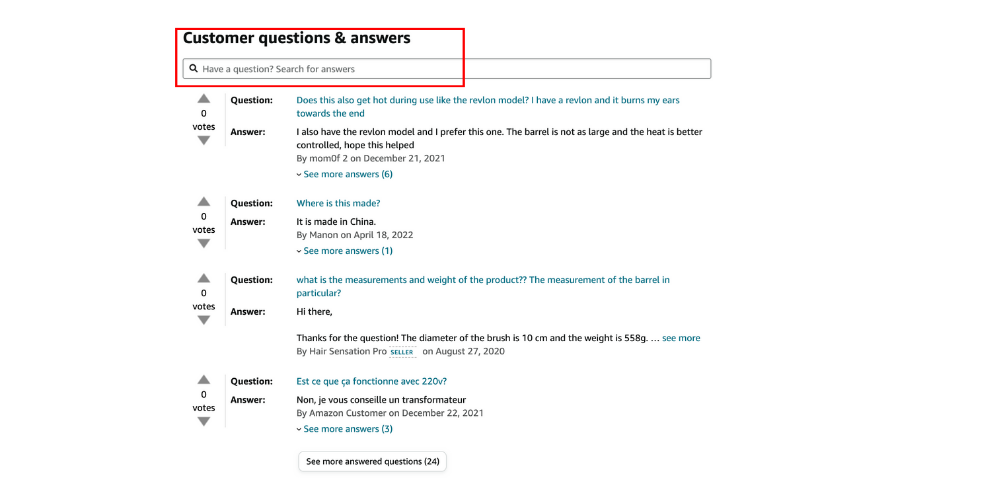 Who Is Your Target Audience?
Having a solid grasp of some basic marketing strategies will help you understand your audience.
Before you begin to write your Amazon list, you need to clearly understand who exactly you are marketing your brand and products to. Creating a buyer avatar is a critical step in your branding and Amazon listing creation, but frequently sellers and Amazon Agencies fail to carve out their specific audience.
How to Create a Buyer Avatar:
Who? Give your avatar a name.
Education? Did they attend a post-secondary institution? What type?
Work? What do they do for work?
What is their income bracket?
Are they married, single, or divorced?
Do they have children?
What are their hobbies?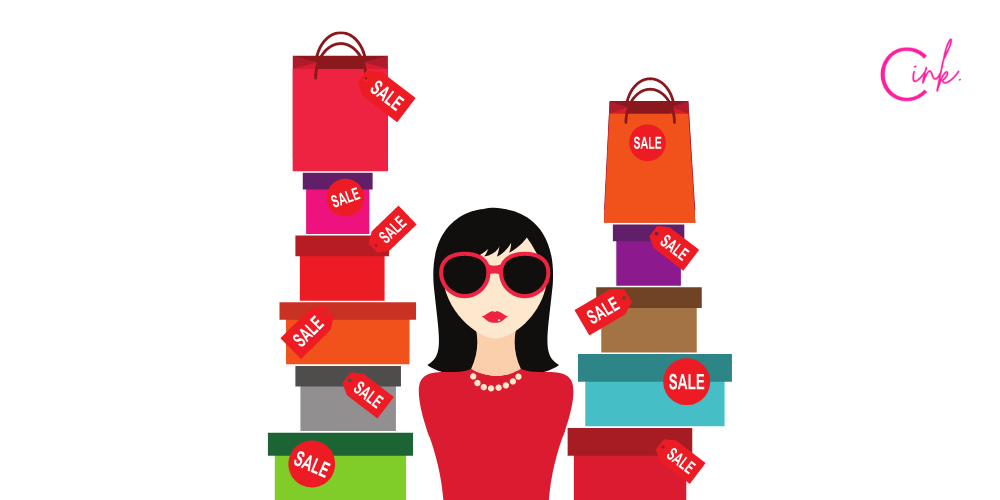 Now you have clear, tangible information about your target audience. Your buyer avatar will come in handy when you create your brand messaging across your brand assets. A buyer avatar will also help you focus attention on specific people who may be interested in your products on Amazon.
How to Carve Out Your Brand Messaging
Once you have clearly outlined your buyer avatar, it's a great opportunity to begin unfolding your brand story and messaging.
A great book that can help you clearly define your brand story & messaging is:
Building A Story Brand by Donald Miller.
Without any marketing experience or business background, many Amazon sellers focus attention on what they like, not what problems their potential customer is aiming to solve. Aim for the following in your brand messaging:
Clarity
Consistency
Compelling Benefits
Community Inclusion
Donald Miller, author of 'Building a Storybrand,' really captured the importance of this concept when he said: 
"Everybody wants to be taken somewhere. If we don't tell people where we're taking them, they'll engage another brand".
A brand story helps speak directly to an individual and aids the reader in creating an emotional connection to the brand. See where I'm going with this? Emotion and logic are everything to good copywriting, and that's precisely why building out a brand story is critical to your Amazon listing creation. 
4 Steps to Crafting Clear Brand Messaging
What are your buyer avatar's pain points? 
In this step, you'll draw on the buyer avatar you created quite a bit. You want to learn about the physiological triggers of your specific audience, what their pain points are, and any challenges they may face in their day-to-day lives. 
USP and Value Proposition
Clearly define your Unique Selling Proposition and your Value Proposition. What are the benefits to consumers of your brand and product? 
Here's a basic equation:
[Product] helps [buyer avatar] solve [problem] and get [value] in [what differentiated way].
E.g: The Brushd Beauty hot air brush helps busy moms dry their hair faster so they can tend to their busy lives more productively.
Clarify your messaging 
While you may think you've nailed it on the head, you'll want to review your messaging for accuracy, clarity, and consistency. Remember that your messaging will be spread across many of your content sites as well as your Amazon listing.
Create a brand guide
Brand experts can help you develop your messaging and package it in a high-quality guide. You can work with the same branding expert to create your logo, select your fonts and brand colors, and they can typically package this information in a well-laid out guide that is yours to keep.
Let's Recap:
Things you've learned so far:
Importance of the product information sheet
How to create a Buyer Avatar
Crafting your brand messaging and story
The Foundation of Amazon FBA Listing Optimization and Creation
Let's begin this chapter with some definitions. It's important to understand what TOS means and what the Amazon Style Guides are as you may reference both of these when creating your Amazon listing.
TOS – Amazon Terms of Service – These are the terms you agree to when you choose to sell online in the Amazon marketplace. These terms are created by Amazon and you are expected to proactively follow them. Failure to do so can mean a variety of things such as a suspension or a listing suppressed.
Amazon Style Guides – The style guides help sellers achieve consistency across the entire Amazon platform, but they are typically underutilized. The style guides are located in your Amazon Seller Central account and can be found by typing Amazon Style Guides into the search bar. The guides outline requirements for titles, A+ Content, detail pages, images, and more.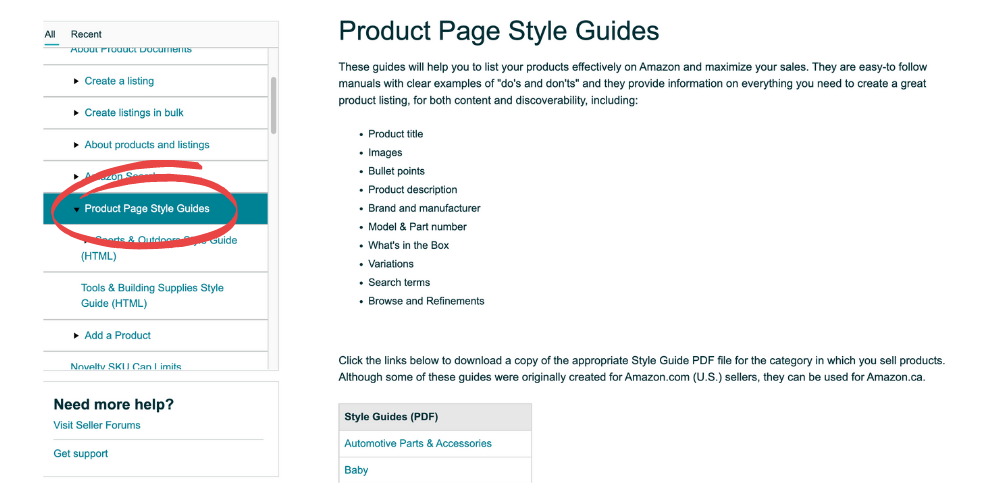 Now that you better understand the difference between Amazon's TOS and the style guides, we'll briefly touch on keywords. The days of stuffing keywords into a listing title are resurfacing.
An emerging new cutting-edge tool is demonstrating the importance of ensuring you have full phrases in your titles. That may mean that individual words are repeated. Two tools that work well in combination for keyword research are DataDiveTools and Helium10. Stay up to date with the latest keyword research trends, and look to optimize your keywords for maximum performance.
A great Amazon listing has highly searched and highly relevant keywords sprinkled throughout the front and back end of the listing. Do your research, split test, and consume content from reliable sources to make the best decisions for your Amazon listing and business.
After you've done your research and prepared a list of the top most relevant, highly searched keywords you'll want to organize them by importance. Label the most essential keyword on your list as number 10, all the way down until the least important keywords as number 1. Consider these factors for your keyword research: relevancy, search volume, competing number of products, and position rank of your competitors. 
Always check the Amazon style guides for the number of allowable characters in the title. The most common title length is 200 characters, but that can change slightly depending on your category. It's a good idea to refer back to the style guides to ensure your bullet points, and description is in line with Amazon's preferred styling. The style guides are found in your Amazon Seller Central and detail the listing parameters specific to your category of products.
Another crucial factor of Amazon listing optimization is that the product listing must be readable. Your listing should be persuasive, of course, but readable at a grade 7 to 8 level is key.
BACKEND SEARCH TERMS
The backend search term area should not include any commas or plural forms. There's been significant development since writing this e-book, and that has to do with the topic of bytes vs characters. Steven Pope of My Amazon Guy made a significant discovery about the number of bytes allowed in the backend search terms. For Steven's full explanation, watch this YouTube video.
Place as many relevant keywords in the backend search terms as possible, and remember that you can update these words as your time on the platform evolves. Be sure to add highly relevant and highly searched terms in different languages such as Spanish or French.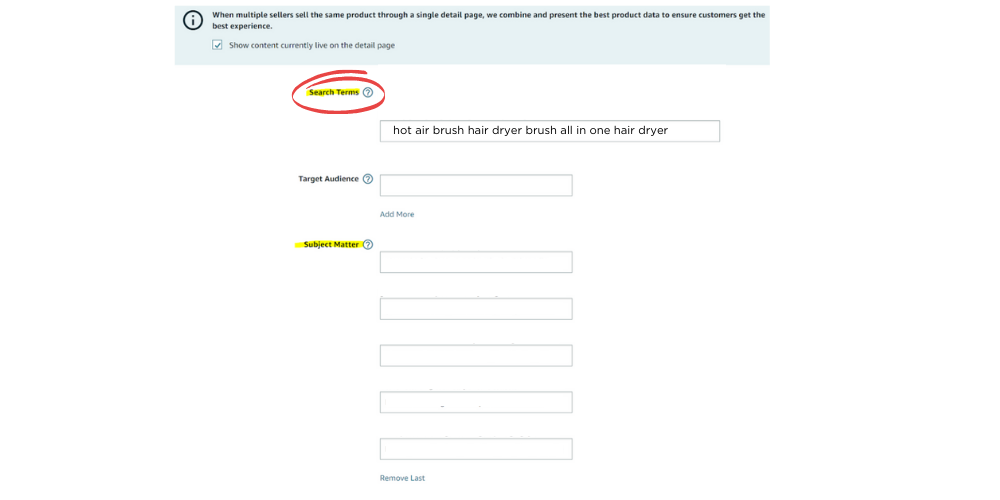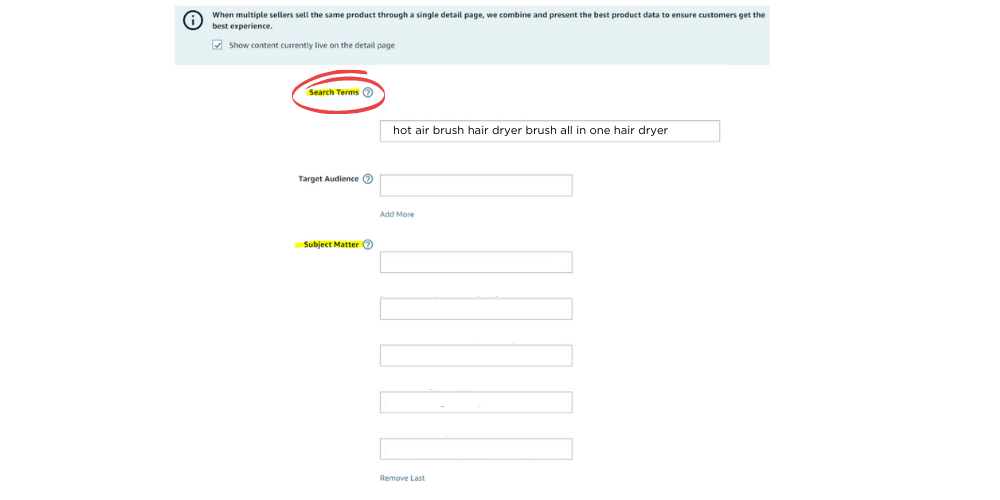 Algorithms evolve, and with that schools of thought evolve. Repeat main keywords in the first placements of the backend search terms for more ranking opportunities, and repeat root keywords in phrase form in the title for maximum visibilty.
THE AMAZON FBA TITLE 
The first 3 to 5 words of your Amazon product listing title are the most crucial. Double-check that you have the appropriate keywords in this crucial area and avoid trigger words. The mobile view of an Amazon listing is truncated around 80 characters. Keep the most important product attributes towards the start of the title so that those details are visible to customers searching on mobile.
Avoid the use of commas in the title, as it's believed that the algorithm does not split words where there are commas. Dashes are more acceptable, but remember to place a space before and after each dash. Refrain from using choice wording such as Best, Free, Bonus, etc.
Here's a title template to help you get started:
Brand Name [Brand Product Name] [Main Keyword] [Pack Quantity]- [Relevant and Highly Searched Keywords] [Descriptive Attributes] – [Size And Color]
Example Title:
Beauty Babes – Hot Air Brush – At Home Blowout Straightening Comb – Hair Dryer – Dryer for Women – Hair Dry Hot Air Brush – Great for Salons and At Home w/ Ion Technology Ceramic Plates – Large Handle 
The title should be easy to read and include at least one power word to entice the reader so long as that word is within the style guides and terms of service. Having a readable title can make a considerable difference in the number of clicks and conversions your listing receives.
BULLET POINTS
Each category offers different character allowances. It's essential to check with the Amazon style guides specific to your category prior to writing each bullet point. 
Amazon states that it only indexes the first 1000 characters of all 5 bullet points. While some Amazon agencies have tested this theory and found no difference, it's important to not have too long, or too short bullet points.
Before you get overwhelmed with keywords and writing good copy in your Amazon listing, start by writing without keyword placement. Look at keyword placement as adding the next essential layer to complete your listing, but focus on the copy as the first step. 
BULLET #1
This bullet should highlight the most important features and benefits of your product and should compel people to purchase. Consider the first bullet point as your product's unique selling proposition. Emphasize how your product will solve consumers' problems.
BULLET# 2 – 3
Here you can highlight more benefits of your product, but also carve out comparison points to competitors in these bullet points. Use caution in making any false claims and never call out direct brand names. Directly tell customers why they will benefit from your product, and seduce them with persuasive statements and influence. These statements are forms of persuasive copy and can make all the difference in your sales figures.
Example of a good bullet point: 
The Hair Dryer You'll Wish You Bought Sooner – We understand the painstaking process of hair drying, and that's why we crafted our premium Beauty Babes hot air brush to speed up drying time and add that smooth, sleek shine back to your beautiful hair. Drying doesn't have to disappoint with Beauty Babes!
Check out this example of an Amazon listing with benefit-focused copywriting. Notice how the content is positioned around how the customer's life will change or benefit from purchasing this product.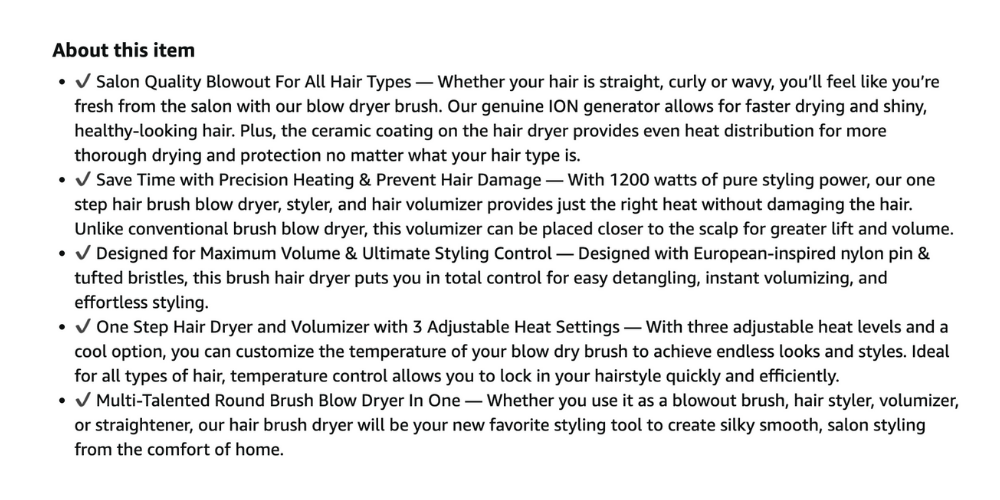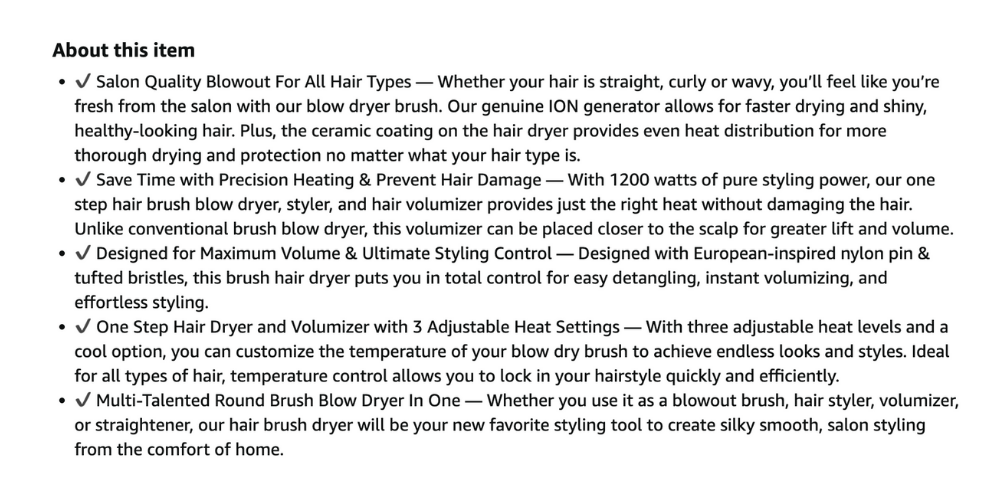 BULLET #4
Don't forget to highlight the value a potential buyer may receive in buying your product. Use bullet #4 as an opportunity to call out how great a seasonal item, gift, or favorite holiday surprise your product would make.
For example: 
The Best All In One Drying and Styling GIft – Competitor products don't offer the same great value that Beauty Babes offers. In your purchase today, you'll get our famous hot air brush, a detangling brush, and a stunning black felt storage bag, all in one great gift set just in time for the holidays. 
BULLET #5
Use bullet 5 to highlight unique brand identifiers like made in the USA, or that your startup stands behind its products. Spotlight how your brand is different, confirming your USP statement. Avoid generic overused guarantee statements.
Amazon's focus of business is always the customer. Don't offer a different warranty or guarantee statement in any of the bullet points, as this goes against TOS. Amazon will typically support a customer return, even if out of your individual product warranty.
Be mindful of making false claims, and avoid using any trigger words that could potentially flag your listing for pesticides, prohibited product claims, or FDA warnings. These violations can be serious, challenging, and time-consuming to overcome.
Here are a few of the pesticide trigger words as presented from Amazon Seller Central:
Non-toxic
Anti-microbial 
Anti-bacterial 
Making unfounded product claims can also land your Amazon listing in hot water. A few of these that stand out are: 
Cancer Curing
Alleviates Depression
Stroke Prevention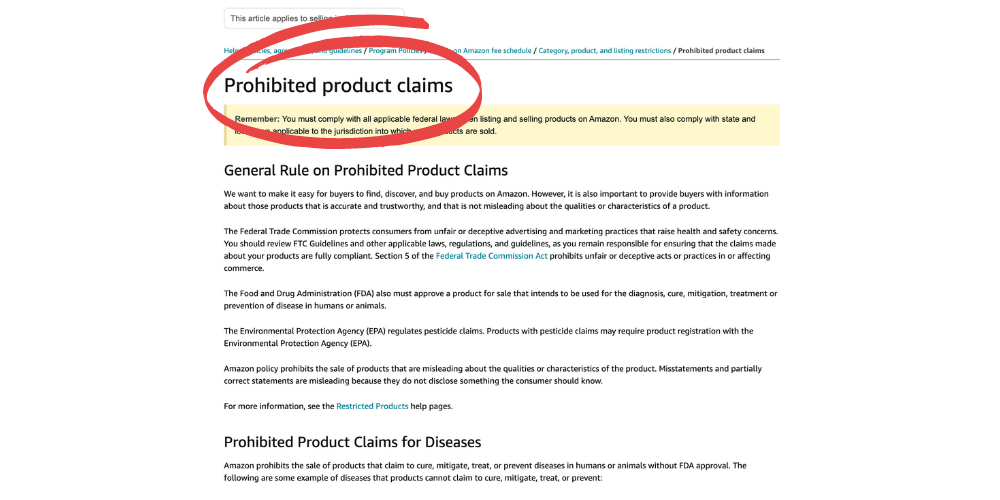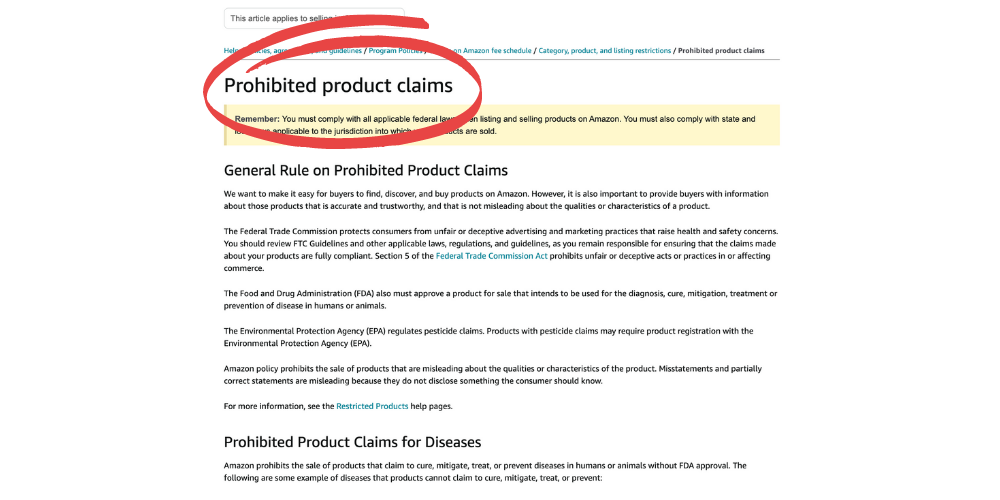 Once you have crafted persuasive and compelling copy, you can plug in your keywords. Always maintain readability and remember to keep most of your keyword phrases in tact. Good Amazon listing optimization offers clear, concise bullet points, and draws out the benefits of the product. The images are striking and the A+ content is eye-catching and persuasive.
What is A/B Testing and How Can it Benefit Amazon Listing Optimization?
In the above section, we talked about split testing, and that might have some of you scratching your heads wondering what the heck this means. Simply, split testing helps people determine which pieces of their content are more likely to convert in sales. Content types can vary. Some examples of items people may choose to split test are the Amazon listing images, the Amazon title, bullet points, website content, social media content, and more.
Always be sure to keep your most important keywords intact for split testing your Amazon listing content, and try to remove any prejudice you may have towards your listing when provided the results.
An Amazon listing is not about you, it's about conversion, so heed the results with seriousness, and make solid business decisions based on the information you are provided.
Unfolding Your Brand Story in the HTML Description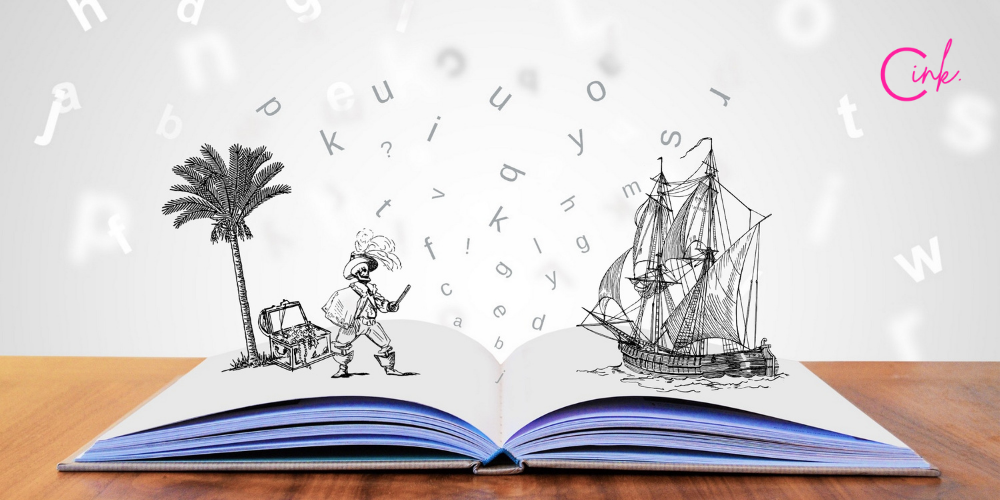 The Amazon product description is the area at the bottom of the page following the 5 bullet points where you'll find a little more space for listing product specs and details. Alternatively, this space can also capture A+ graphics and images. HTML Code is a specific type of formatting code Amazon requires for you to upload your description in the backed end properly. 
Create two listing views. One in a standard Google or Windows document, and the other in the expected HTML code so you can see what both look like. A major change to the HTML Description came into place in the summer of 2021. Excessive HTML code is not permitted, only line breaks (,br>)
Avoid formatted HTML such as:
Bold
Italics
Numbers and Bullets
How Do You Carve Out A Great Amazon Product Description?
Tell a story in the Amazon product description that is aimed at convincing a shopper why they need your product to help solve their problems.
Start the story in your Amazon product description with an open-loop hook. Hooks should always be clear and not clickbait. A good open-loop hook does not finish a thought, and it compels your audience to read more about your product and brand.
Next, add a section that highlights the benefits of your product. Your entire listing caters to people looking to solve problems, and with that in mind, the description is a great place to restate those prime benefits your shoppers can't live without. Finally, add a how-to, tips for use, or an FAQ section in the remaining Amazon product description.
Here are 3 examples of storytelling methods you can use in your product description:
The Hero's Journey
Take your customer on a quest to solve their problem, and have the customer come out of the story as the true victor.
AIDA 
AIDA stands for:
Attention
Interest 
Desire
Action
You'll take your reader through each of AIDA's four stages, and by the time they finish reading your description, they'll hopefully be clicking 'add to cart' several times over.
Problem – Agitate – Solve
If you are new to Amazon listing optimization, this storytelling method is probably the most straightforward. Drive the pain point your customer is experiencing home, agitate that pain point by reminding the customer how horrible said pain point is, then solve the problem with the use of your product.
Final Notes About the Amazon HTML Description
Just like the rest of your Amazon listing, the description deserves your attention and effort. Use proper HTML code to upload the description to your backend listing. To convert your listing to proper HTML code, use the AMZ editing tool noted in the resource chapter at the end of the guide. Keep the character count of your description under 2000 characters, and avoid HTML code other than line breaks as mentioned earlier.
Amazon FBA Listing Optimization and Creation: Images
You can find Amazon image requirements by searching Amazon images in Amazon Seller Central. Always follow the proper size guidelines (2000 x 2000), use a white background, and be sure to use infographics that are clear and concise and that emphasize the most beneficial features of your product.
When it comes to graphic design there are several tips that can help you understand what makes a good quality Amazon image and what does not.
FOLLOW YOUR BRAND GUIDE
One of the most useful, and also the most underutilized, Amazon graphics tips is to carry your brand guide from your other digital assets like your website or social media to the Amazon listing. Following your brand guide in your Amazon listing helps you build brand authority and also helps your brand be remembered across multiple platforms.
The image below is from the Brushd Beauty website. You'll see in the next image that the fonts and color guide are carried from the website to the Amazon lisitng.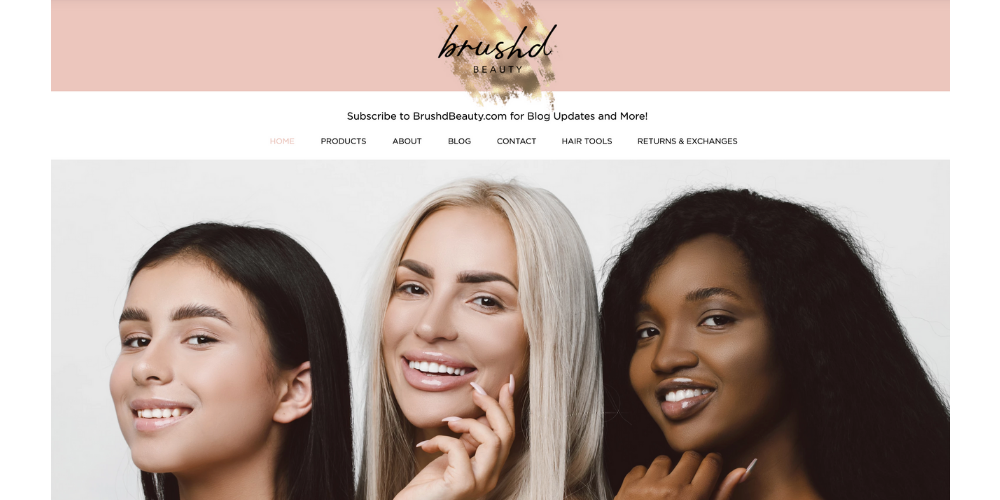 Keeping consistent across platforms is important as it ensures that your brand is remembered and recognized. Your Amazon listing is no different, and following your brand guide in your listing creates a cohesive, responsive aesthetic that your audience may appreciate.
WHITE SPACE
While too much space in an image can be a bad thing, balancing white space with the elements of graphic design are paramount to a design's appeal. Use just enough white space so that the image is not cluttered and therefore well balanced. 
LIFESTYLE IMAGES & CALLOUTS
Lifestyle images help draw attention to the massive benefit using your product holds to potential buyers. Shoppers should be able to determine how your product can help them simply by viewing these types of images in your Amazon listing. 
Aside from lifestyle images, your Amazon images should also include 1-2 infographics to highlight the features of your product. Images are key to your success in Amazon FBA listing optimization and creation, and these tips should help guide you in selecting stunning graphics for your Amazon listing. 
Pro Tip: Leverage your Amazon images in your website content, blog posts, and social media graphics.
Conclusion
Research your product, develop branding, craft compelling, persuasive copy, or research out to Amazon FBA Listing Optimization and Creation experts here at Christina Ink. 
There is nothing better than showcasing a great brand and product on the world's largest online marketplace in a well-written, creative and compelling Amazon FBA listing. 
Before we forget here are a few final considerations: 
Research should be the foundation of your process and where you begin your Amazon listing creation.
Fully edit your listing before upload.
Review your backend to ensure it meets the necessary requirements.
Keep a spreadsheet and record any changes you make to your listing. Even minor changes can take a few days to settle into the algorithm. Keeping tabs on changes will help you understand what is helping your conversions, and what may possibly be slowing them down.
Update your backend search terms with highly relevant and searched terms depending on the season or approaching holiday and don't forget to use different languages like Spanish or French that consider your buying audience. 
Emojis are technically not within the Amazon Style Guides, but you will see that many sellers and agencies choose to use them in their bullet points. Ask yourself if emojis take away from your brand messaging. If emojis may hamper your brand voice, it may be a good idea to reconsider adding them.
Amazon listing optimization is not a set-it-and-forget-it digital shelf. Your Amazon listing is vital to your success on the platform and should be reviewed in different phases of the trajectory of your sales. Understanding what keywords are ranking and indexing is paramount. Which images are the best for maximum conversion, and what elements of copywriting are adding to customer satisfaction or decreasing satisfaction should be reviewed on an ongoing basis. 
Self Amazon lisitng optimization and creation is a great way to learn about the requirements set forth by Amazon and helps you understand what aids in the discovery of your products on the platform, and what it takes to convert on the world's largest online marketplace. 
RESOURCES
Tatiana James – Amazon FBA YouTube Mentor
Canva Pro – Graphic Design
Helium10 – All in One Amazon FBA tool suite
EvaGuru – Business Planning and Amazon FBA Reimbursements
DISCLAIMER: The information & resources contained in any of the links offered on this page, our website social channels, and our YouTube Channel may contain resources for download, education, or viewing. This online guide and section of tools and resources are only for educational and informational purposes. We are not Amazon FBA mentors or copywriting trainers.
Links may contain affiliate links. If you purchase a product through an affiliate link, I will receive a commission at no additional cost to you. I endorse products that I personally use and love.