or somarketing
As an Amazon FBA business owner, you may not be aware of the importance content plays in the growth of your FBA business. Relevant, engaging, and compelling content can help you reach potential customers at their level.  
This article will explore ways you can level up your content to help skyrocket your growth on and off of Amazon.
Start with A Compelling Amazon FBA Listing 
The foundation of your Amazon FBA business begins with your Amazon FBA product listing. It's the first place you start developing the scope of features and benefits for Amazon traffic, and it's an essential aspect of growing your e-commerce footprint.
Your Amazon listing includes the title, five bullet points, HTML Description, and A+ Content. The listing is essentially your digital storefront and is where your customers go to make their purchase decisions. 
Ensuring that your Amazon FBA listing aligns with your marketing and social media content helps you create consistent messaging across all platforms.
For full details on creating your Amazon listing, read our long-form tutorial on Amazon FBA listing creation.
Create A Buyer Avatar or Customer Persona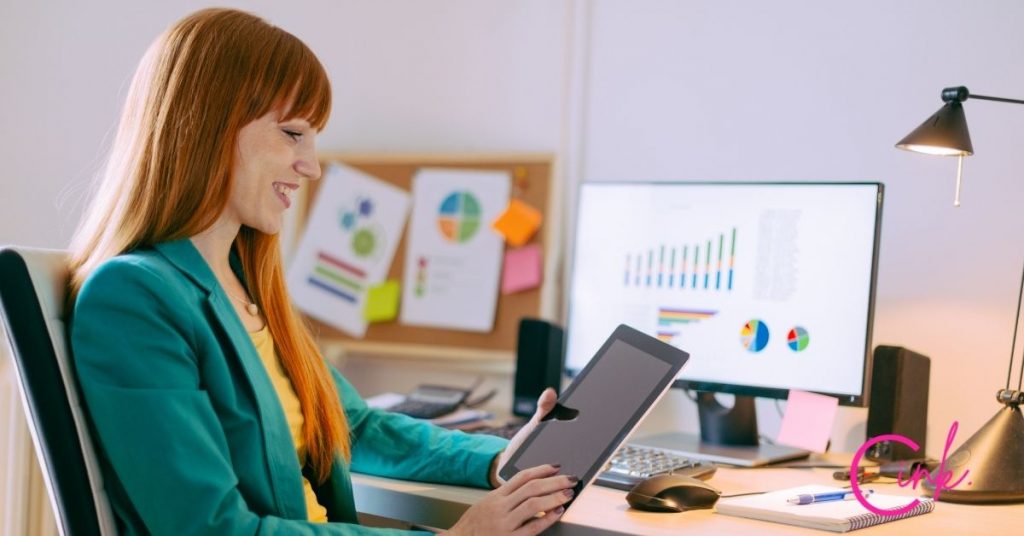 To build a strong foundation for your Amazon FBA business, you'll need to clearly define your audience. 
You need to know who your potential customers are, their demographics, how old they are, etc. Are they spendy or frugal? What is their education level and marital status? 
These details help you understand how to speak directly to your audience in such a way that grabs their attention and convinces them to purchase. 
Crafting a buyer avatar is the first step in Amazon listing creation. While many sellers seem to skip over this vital aspect of listing creation, it's the foundation that helps you solve your customer's specific pain points.
Perform Ongoing Keyword Research & Optimization
Another critical component of your Amazon listing is the keywords that you use throughout your listing. 
Keep in mind that customers who search for products on Amazon may be searching for products on other sites such as Google. While It's important to perform keyword research for your Amazon listing, you should also be thinking about keyword research for your website at a certain point in your selling trajectory.
Keywords are how potential customers find your listing on Amazon.
It's essential to evaluate the keywords you're using and make sure they reflect the current buying climate. 
Make sure to reference holidays and special sales to capture those special times of the year where traffic is said to be at all-time highs. Several tools, such as Seller Tools, can help you find the best keywords for your Amazon product list.
Lastly, the Amazon title is one of the most critical elements of your Amazon listing, and it should be simple, specific, and use your most effective keywords. 
You'll want to make sure that your title and listing look great in both the laptop and mobile view, as you never know that platform your customers are shopping on.
These tips can help you create and optimize your Amazon listing, which can help you develop a robust content plan for the future growth of your business.
Create Amazon Posts and Repurpose Them Across Various Platforms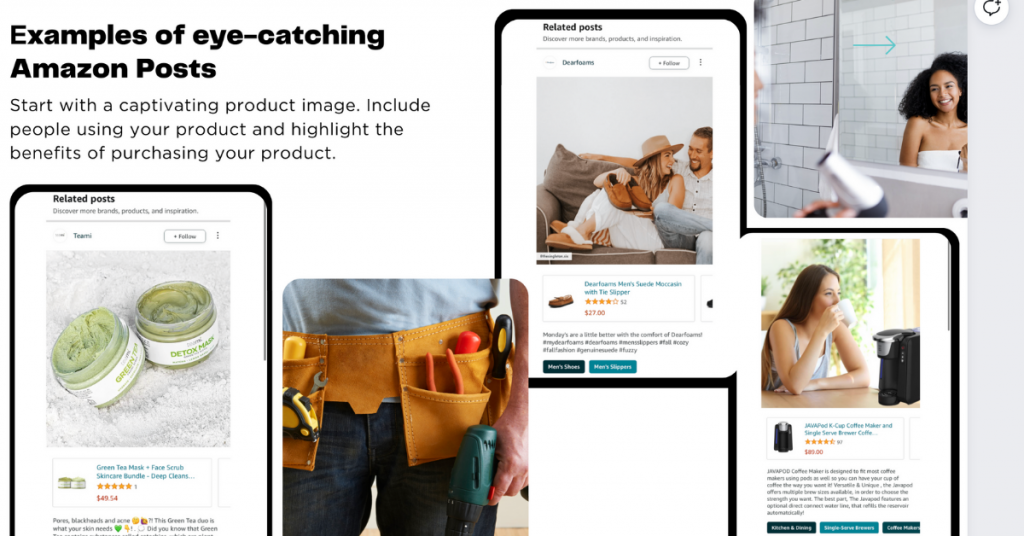 Now that you've laid the foundation for your Amazon FBA business and optimized your listing, we can focus on other Amazon content.  
Amazon posts are a very underutilized tool that Amazon offers FOR FREE to registered Brands.
Amazon posts are similar to other social media posts. They contain interesting facts, features, or details about your products and help you to highlight them with compelling visuals. 
Ensure your Amazon post images are eye-catching and include lifestyle images that highlight the benefits of using your products.
Amazon FBA posts show up in the brand feed, related posts, category-based feed, and the product page carousel.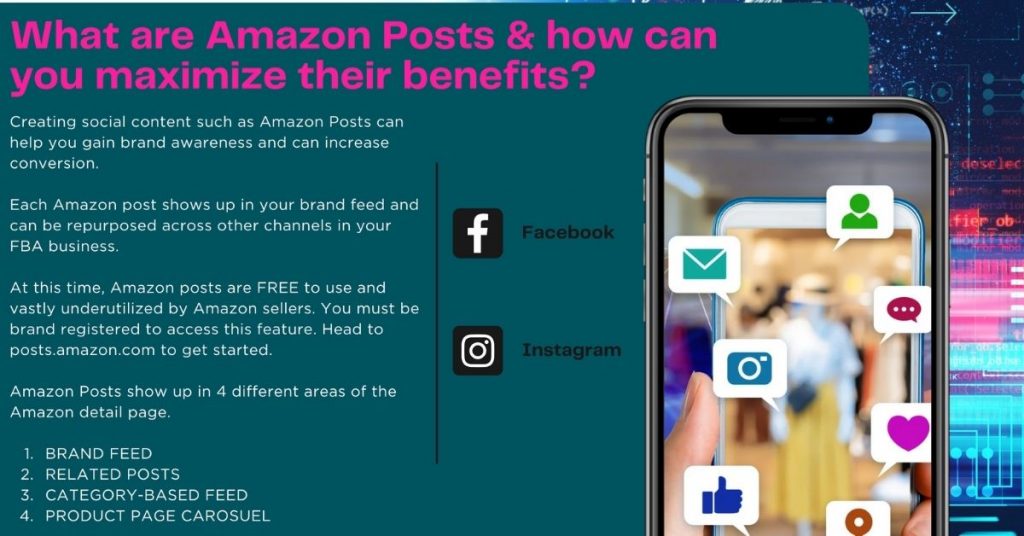 Once you've created an Amazon Post, you can cross-post this content to other social sites like Instagram or Facebook because they follow very similar models. 
You can also amalgamate this content into a longer blog post which can be used on your website or in downloadable PDF as a suitable means of lead generation. 
Get in the habit of repurposing content across multiple channels. Doing so helps target on-page audiences and creates consistent messaging while building brand awareness and increasing your conversion rate.
Social Media Marketing For the FBA Business Owner
As I mentioned at the start of this article, Amazon sellers tend to undervalue content as a whole for the means to grow their Amazon FBA business. 
Sellers can quickly become task saturated and overwhelmed with the vast amount of content options in the e-commerce space.
It's okay. You don't need to start with everything. 
These are just a few examples, and if anything, you should focus on the critical aspects of your current sales model to develop the best content strategy that suits your needs.
Social media marketing is a relatively cheap and effective means to market your FBA brand and create cross-promotional content for various channels. Let's start with Instagram and Facebook.
That same Amazon Post you created earlier will come in handy in this section.
Social Media Marketing for Amazon FBA Sellers 
When using social media, start with a compelling SEO-rich bio. Treat your bio as your business card. Make sure it contains all of the relevant information potential customers need about your business.
Be sure to include relevant keywords in your bio, description, and captions. If customers are searching social media, you want them to be able to find you, and keyword aid in account discovery. 
Highlight exactly how you can help your customer. This includes specifics about the products or services you are offering.
Anytime you post on social media, make sure to include hashtags that are relevant to the platform.  
You may want to think strategically about what this means for one platform vs. another.  Are the demographics you're reaching IG different from those you reach via Facebook? If so, you'll want to make sure your hashtags reflect this. 
15 -30 vital hashtags is a good number to list, but some social media marketing experts say hashtags aren't as crucial as they once were years ago. Instagram recently updated to 3- 5 hashtags, but there is debate whether that's an effective strategy even though being promoted by the platform.  
Do some hashtag research and trial and error your findings. The best social media management hashtag plan may differ from one person to another. Trial and error is the best way to discover what works best for you.
Content Pillars For Social Media Marketing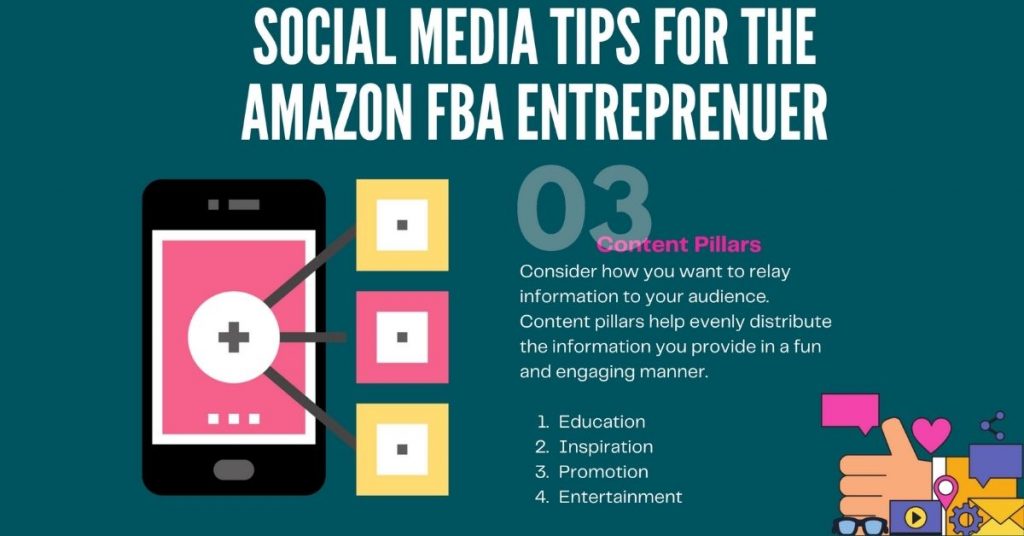 You'll see a few different pillars online that talk about content pillars. These are my personal favorite and can help you organize different content, so you aren't constantly posting the same content type.
Educational – Provide high-value posts that are bite-size and digestible. Carousel posts on Instagram help provide your audience with high-level education, in short, punchy slides that users can scroll through and save for later use.
Inspiration – Quotes, advice, personal stories, and testimonials are great examples of inspirational posts.
Promotion – It's more than likely that you'll want to promote your products or services at a certain point. Create promotional content with direct calls to action in your captions with contests and giveaways. These posts help build community while growing your account.
Entertainment – Most of us scroll through content mindlessly to see what our friends and family are up to, learn, and be entertained. Post relevant memes and light-humored clips to show some personality on your social media account.
Each social media post must address one or two of the content pillars mentioned above and provide visually interesting imagery and graphics to your audience. 
Rotate through each pillar with unique posts so that your social feed doesn't get stale.  If you are only ever educating but never entertaining your followers, you will lose them over time.
Dont overlook Website Content and Blog Articles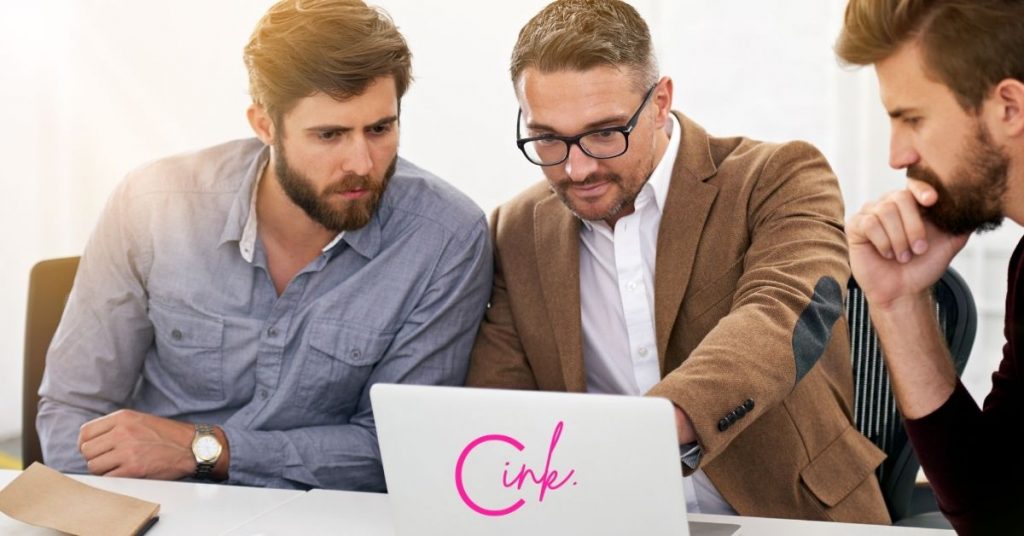 Blogs might seem like a dated means of SEO and a massive amount of work, but the return on investment is also huge. 
Blog articles featuring keywords and educational information are extremely good at attracting traffic and potential customers to your website and then on to your product listing. 
To get this traffic, you must create high-value content. 
Create content that speaks to a need your customer is experiencing and offers them the information they don't currently have. Again, knowing your customers and what's important to them will go a long way towards attracting them to your website blog.
Once they find your content, make sure that it is easily accessible. This means prioritizing readability and creating a user-friendly experience for the reader.  
Visuals like headings and italics will indicate to your readers what's important and help to capture their attention for longer. 
You'll also want to add SEO elements to your headlines, meta description, and body of your articles. Keep your keywords relevant, with healthy search volumes and mid to long-tail in length. 
Avoid repeating keywords unnecessarily throughout your content, be strategic. I like to place keywords about thirteen to fifteen times throughout my blog articles depending on the length of the article.
Like your Amazon post, you'll also need to make sure you use high-quality visuals in your blogs and break up with text with bullet points and sub-headlines.
Summary
Using this guide, you'll be able to start creating engaging, relevant, and compelling content for your Amazon FBA lists, business, social media, and website blog
Questions for Chrisitna Ink about your Amazon FBA business content strategy? Drop them below!
This page contains affiliate links. If you purchase a product through one of them, I will receive a commission (at no additional cost to you). I only endorse products that I have personally used and benefit from.