Take a look at your e-commerce website hooks & headlines. Do it, I dare you. Does your Amazon agency hook say "We Grow Your Brand?" If so, then you need to read and save this article.
I've been writing in the Amazon FBA niche for the last few years. What is unequivocally my biggest pain point in reading Amazon e-commerce website copy is that it all sounds the same. 
There's almost zero differentiation from one PPC agency to the next, from an aggregator that's 'holistic' to an aggregator that grows brands.
Yet Amazon FBA agencies spout the same messages to their clients–
'To sell on Amazon you must differentiate.'
Look at ten or so different amazon FBA agency websites and you'll see the same rocket ships and growth messaging across almost 90% of the copy.
What does every Amazon FBA marketing agency dream of? Besides money in the bank, how about a name that's remembered as a leader across the e-commerce landscape.
That's a good start.
To achieve global e-commerce domination, your Amazon FBA agency needs to be crystal clear with its foundational messaging, and who exactly it serves.
Your Amazon agency website copy has to attract new clients, sell its services, and build a loyal following– in less than 20 seconds because that's how long it takes before your ideal client bounces from your homepage.
In this article, you'll learn about crafting a conversion-worthy hook so your agency can attract an ideal audience and sell the Sh$t out of your services.
Why Your Amazon Agency Should Care About Website Hooks & Headlines
Your ideal client may have passed over your Amazon agency website without a care in the world, scrolling to the next site that offers them exactly what they need at precisely the right time in under 20 seconds.
If you don't give your ideal client a reason to stop the scroll, why would they? 
Considering nearly 90% of e-commerce businesses fail in the first two years, you may want to remove your agency ego and work out better foundational messaging and website copy so you can play the long game.
"If copy is king, your e-commerce agency needs to wear the crown."

Christina Passmore
What's Is A Website Hook?
Hooks & headlines are strategically crafted words designed to imprint your audience subliminally with the exact steps they need to take to scroll, stop and act.
Creating an action-worthy hook is vital to the success of your Amazon FBA agency website and foundational messaging.
Hooks can be taglines and need to capture attention across all of your content, including your homepage, website blog, core services, and more.
E-commerce copywriters use formulas and templates to craft effective hooks as the final piece de resistance. But hooks are one of the most intricate pieces of copy to write, and the most important.
How to Craft An Effective Website Hook
When your Amazon FBA agency website was first created, you probably thought your website hook was good enough to capture attention. Maybe you stuck with the traditional 'We Grow Your Brand" because you thought that was enough to compel a browser.
Here is what you need to optimize to convert more leads from your website.
#1 Hone in on your ideal client. Create a buyer avatar and be specific. 
Demographics play a massive role in defining your ideal audience. 
Are you speaking to large established brands selling on Amazon or small sellers? 
What monthly revenue do these brands or sellers achieve? 
Where do the majority of your clients live? 
Does your Amazon FBA marketing agency speak directly with the CEO of these brands, the CMO, or a virtual assistant of the individual sellers you help?
Is your ideal client an aware client, unaware seller, or a semi-aware brand? 
The awareness stage is the stage of the buyer journey your ideal client is at before purchasing. 
As an Amazon FBA agency, you speak about this with the services and solutions that help your clients. 
You probably tell your clients they need to know the stages of the buyer journey to achieve better conversion rates.  
It's exactly the same with your agency website hook and headline. 
Marketing companies spend hours and millions of dollars defining ideal audiences on a granular level. So much so that commercials are bite-size micro-organized pieces of content, down to the bone, that speak to specific people.
Think about defining your Amazon FBA agency audience in the same light.
#2 What Is the unique mechanism that your agency leverages?
In other words, what is your core offer, and how it is different than other Amazon FBA agencies? List out your core services or solutions, and be distinct.
#3 Define your agency core benefits
Remember, conversion copywriting is always about THEM, never about your agency or service. Clearly define what your ideal audience gets from your services, and why your services are beneficial.
#4 Personalize your agency message to your ideal client
B2B marketers are starting to transition to a more personalized approach, and is worth trying in your Amazon agency. What's your agency story? How can your agency relate to your ideal audience? Create a story and personalize it to craft more compelling website copy and hooks.
Here are some of the popular formulas copywriters use to craft storytelling.
AIDA – Attention, Interest, Desire, Action: Grab the reader's attention. Pull the reader in with a captivating story, Highlight the benefits of taking the action at hand, provide a clear call to action.
Before – After – Bridge: What life was like before. Imagine what life could be like after solving your problem. Here is how you get there.
Problem, Agitate, Solve: Common in e-commerce copywriting, what is the problem, agitate the problem so that your audience resonates with having said problem, then provide a clear transformational solution.
There are different types of hooks that speak to different awareness levels.
Each one of the hooks listed in my examples below tugs on the psychological triggers that make humans take action- each is designed with specific intent.
Maybe it's fear of missing out or highlighting what benefit the audience will achieve with your agency services- hooks are bite-size copywriting genius.
Steal These Conversion-Worthy Hooks & Headlines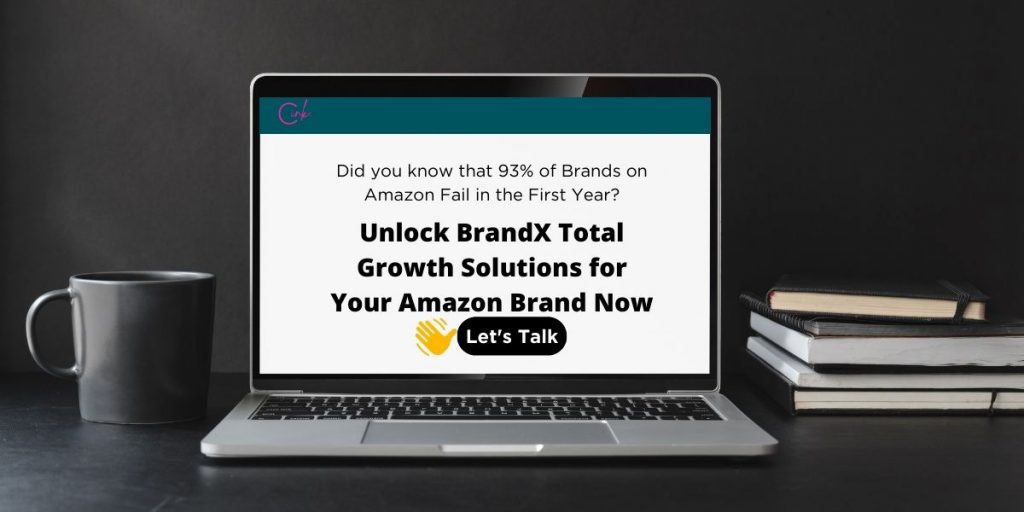 #1 HOOK
Did you know that 93% of Brands on Amazon Fail in the First Year?
HEADLINE
Unlock Brand XXX Total Growth Engine Solutions for Your Brand Now
#2 HOOK
The Ultimate Guide to Scaling Your Brand on Amazon from Amazon Experts
HEADLINE
We'll provide the tools and solutions your brand needs to increase conversions, build authority and generate repeat buyers on Amazon
#3 HOOK
107 Amazon Experts 
HEADLINE
As an XXX client, You Get a team of 107 Amazon Experts by your side every step of the way. We're the Total Growth Solution for Your Brand on Amazon.
#4 HOOK
Did you know 12 Million People Buy Products On Amazon? Your Amazon advertising, brand management, and creative aspects play a massive role in the buyer's purchase decision.
HEADLINE
Discover how to scale your brand on Amazon with our total growth solutions.
#5 HOOK
Aren't You Tired of Spinning Your Wheels and Wasting Money on Amazon?
HEADLINE
Discover Our Total Growth Solutions to Help You Scale Your Brand On Amazon 
#6 HOOK
Six months from now, when Amazon aggregators come to you and ask, 'how did you scale your brand so quickly? We want to buy your brand!" 
HEADLINE
They'll be no better feeling of accomplishment, and you'll know that Brand X  helped you do it. Get started today, and find out how satisfying it feels to sell.
#7 HOOK
Calling All Brands on Amazon, with XXX Amazon Experts Behind you, growth is just a few months away. 
HEADLINE 
Imagine how Brand XXX can help you scale
#8 HOOK
Many Amazon Sellers Know How Painstaking it really is to Sell on Amazon.
HEADLINE
But did you know that the total growth solutions for your brand can actually help you scale?
#9 HOOK
Brand XXX Strategies for Forward-thinking Brands Who Want to Innovate, Scale, and Lead
HEADLINE
Are you up for the challenge?
#10 HOOK
Over 200 brands on Amazon are using Brand X to transform their businesses and increase their return on Investment
#11 HOOK
The difference between you and them is us. We're the total growth solution for your brand on Amazon.
The Final Step To A Conversion-Wothty Website Hook Is Your Call To Action
You've spent all this time crafting compelling homepage hooks & headlines, but your call to action tells your audience nothing about how to get started, and instantly your Amazon agency loses the sale.
Calls to action need to highlight the benefit to the customer and the action the customer needs to take for them to achieve the benefits.
Steal these E-commerce Agency CTA's and Finalize Your Sale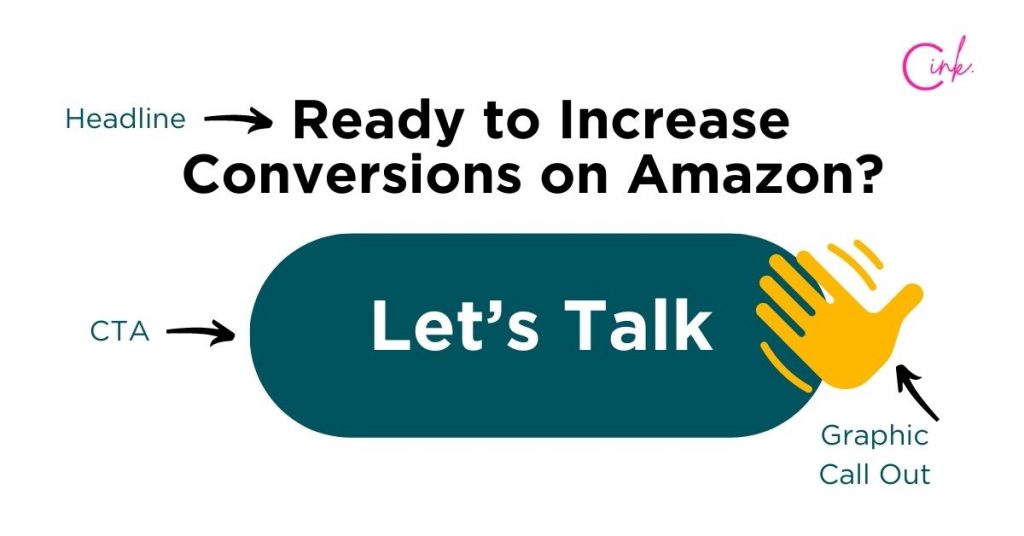 Tell your audience exactly what you want them to do, make a graphically appealing CTA with an arrow or a hand-wave. 
#1 CTA – Free Webinar Sign Up Now
#2 CTA – Ready to Increase Conversions on Amazon? Let's Talk
#3 CTA – Do You Want to Decrease Your Ad Spend and Increase Conversions on Amazon? Let's Chat
#4 CTA – Growth Solutions Your Brand Can Count On – Get Started Now
#5 CTA – Try Our Amazon Marketing Solutions Free for 30 Days – Sign Up for A Free 30 Day Trial
Final Notes
Take a look at your Amazon agency website hook and headline.
Does your hook tell your ideal audience what they get from your agency services? Does your website hook tell your audience the unique benefit of using your services?
If not, your agency has some homework to do.
There's more to crafting conversion-worthy e-commerce website copy than a hook. There are ten or so crucial elements your Amazon agency needs to display to convert new leads, capture referrals, and build authority across the e-commerce landscape by effectively leveraging conversion-copywriting.
While the hook is crucial so is your foundational website copy. Differentiate your Amazon agency website copy and steal your competitors clients with conversion-worthy copy by Christina Ink.
Drop your questions below.